Step-by-Step RECIPES WITH PICS, from TravelRomania.Tripod.com

Aranygaluska (Golden Dumpling Coffee Cake)
Added: March 2010

Papanaşi (Sweet Cheese Dumplings Rolled in Bread Crumbs and Sugar)
Added: March 2006

Griş cu lapte (Cream of Wheat with Milk)
Added: January 2006

Socată (Elderflower Cordial)
Added: June 2002


Here's the text of the aforementioned recipes, for quick perusal.

Recipe for aranygaluska (Golden Dumpling Coffee Cake) -- with photos

This is a Hungarian recipe from Transylvania. Aranygaluska means "golden dumplings" in Hungarian. My aunt makes this coffee cake using the same ingredients she uses for the traditional Romanian version (the cozonac, or the Romanian panettone). One difference between the two is that when making aranygaluska you scoop out dumplings from the dough, which are then broken off the loaf. Also, the dumplings are rolled in a ground walnut and sugar mix instead of having a loaf with a walnut (or cocoa / poppy seeds / Turkish delight) filling. Whether in the shape of a cozonac or golden dumplings, this dish is a mainstay at my aunt's place on all the major holidays (Christmas, New Year's Eve, Easter).

Ingredients for the dough:
- 1 kg flour / 2.2 lb
- 250 g / 1 1/2 cups granulated white sugar
- 200 ml / 7 fl oz cooking oil
- 4 egg yolks
- 1 tsp salt
- 50 g / 2 oz cake yeast
- grated rind of 1 lemon
- milk as needed

Ingredients for the coating:

- 300 g / 10 oz ground walnuts
- 150 g / 5 oz granulated white sugar

1. Dissolve the yeast in lukewarm milk. (Make sure it's not hot, or else it will kill the yeast.) Add 8 tablespoons of flour. Set the mix aside in a warm place until it doubles its volume.

2. Dissolve the 1 1/2 cups of sugar and the teaspoon of salt in lukewarm milk. Place the remaining flour in a mixing bowl, and add the yeast mix, the milk with the sugar and salt, the egg yolks, and the lemon rind.

3. Knead the dough until it forms bubbles. Add the lukewarm cooking oil and knead until the dough no longer sticks to the hand and mixing bowl.

4. Line a deep baking pan with aluminum foil, and then oil the aluminum foil.

5. Dip a tablespoon in cooking oil and then scoop out dumplings from the dough. Roll the dumplings in the ground walnut and sugar mix.

6. Place the dumplings into two loaf pans, so as to form chevron shapes, in two layers per pan. When you're done arranging the dumplings, sprinkle the remaining ground walnut and sugar mix. Bake at a low temperature for an hour.

7. The aranygaluska, fresh out of the oven. But you're not done. You still need to remove the aluminum foil while the cake is hot, or else it will come off only if you remove pieces of cake with it as well.

8. Turn the pan upside down on a kitchen towel; remove the pan; place a baking parchment paper onto the back of the cake, and slip on the pan again; turn the pan upside down again, and you're done!


Recipe for Papanaşi (Sweet Cheese Dumplings Rolled in Bread Crumbs and Sugar) -- with photos

Here's a Transylvanian dish of papanaşi. Papanaşii are a traditional dessert all over the country, but you will find them mostly fried if you order them in restaurants (see photo #8). Here's the recipe for boiled papanasi.

Ingredients for 6 servings:
- 500 g (approx. 1 lb ) farmer's cheese
- 2 eggs
- 5 tbsp cream of wheat
- 5 tbsp bread crumbs
- 50 g olive oil
- 4 tbsp sugar

1. In a bowl mix the cheese, eggs, and cream of wheat.

2. With your hands covered in flour take cheese out of the bowl and squeeze to make balls some 5 cm (1 ½ in) in diameter. Place them on a dish.

3. Bring water to a boil in a large saucepan, and add a pinch of salt. In a second pot or pan, heat the oil and pour the bread crumbs. Stir until bread crumbs turn light brown, then turn the heat off and add the sugar.

4. Add the sugar and mix well.

5. The papanasi in the other pot are finished boiling when they rise to the surface. Remove them with the slotted spoon and roll them in the bread crumbs and sugar mix.

6. Enjoy!


Recipe for griş cu lapte (Cream of Wheat with Milk) -- with photos

Here's my grandmother's version of the cream of wheat with milk recipe. I hope you will enjoy it. This Transylvanian recipe is incredibly simple and yet very tasty.

Ingredients for 2 servings:
2 mugs (200ml) of milk
semolina/cream of wheat, 6 teaspoons
sugar, 4 teaspoons
grated lemon rind (1 lemon)

If you are using a larger mug, increase the quantities of cream of wheat and sugar accordingly (e.g., 8 and 6 teaspoons).

1. Heat the milk.

2. When the milk starts to boil, add the cream of wheat...

3. ...add the sugar...

4. ...and finally the grated lemon rind.

5. Boil mixture over medium heat for five minutes, stirring constantly.

6. Let it sit for a couple of minutes, and serve.
Or try it with caramelized sugar syrup.

7. To make caramelized sugar syrup, heat 2 tablespoons of sugar and wait till the sugar melts and turns golden brown, all the while stirring with a spoon. Add slowly one tablespoon of water and then a fifth of a mug of water. The hardened sugar on the spoon should dissolve. Continue to stir for a few more minutes. Pictures below.

When the mixture is all liquid, pour the sugar syrup around the edges of the serving bowls using a spoon. Enjoy!


Socată (Elderflower Cordial) -- with pictures

Before 1989, it used to be that at the beginning of summer both country and city folk used to make elderflower cordial (socată).

I have taken the time to make socată this year, and inquired after recipes.

1. With caramelized sugar and vinegar
Ingredients:
5 liters water
3 large umbels
500g sugar
2 lemons, sliced
75g vinegar

Caramelize 100 grams of sugar in a cooking pot; when melted, add 1 liter of water and the remaining sugar. Bring to a boil and stir to dissolve the sugar, and then leave the pot to cool.

Pour the sugary water in a 5-liter jar. Add the vinegar (I have used apple vinegar), elderflowers and lemon slices (with rinds). Fill the jar to the top with water. Cover it with gauze and store it for four days, stirring gently every once in a while.

Strain and store in the refrigerator in well-sealed bottles. I used a strainer lined with gauze. You can try a denser fabric, such as muslin.

This is the original recipe. I have gotten a different result by changing the quantities and proportions. I have used 300 grams of sugar to the 5 liters of water and doubled the quantities for the remaining ingredients. I served this socata diluted with mineral water.

Changing the proportions to such extent also changes the taste. The result departs from traditional Romanian elderflower cordial in that is more refreshing but also has a more pronounced taste of vinegar.

2. Plain socata
Ingredients:
5 liters water
2 large umbels
500g sugar
juice of four lemons and rind of two lemons
(a version of this recipe also adds 5 grams of yeast)

Dissolve the sugar in 2 liters of boiling water and leave to cool.

Pour 3 liters of water in a jar. Cut the lemons in half and squeeze the juice into the jar. Add the rinds of three lemon halves and the elderflower heads. Pour the remaining water, and cover the jar with gauze.

Stir 2-3 times daily for 3-5 days. (Again, remember to stir.)

Strain and store in the refrigerator in bottles with paper corks. I have asked and these are supposed to be conical paper corks.

I am assuming the paper corks are meant to let carbon dioxide out. One recipe from 1975 advises readers to tie the corks down when they refrigerate the socata, as the drink will continue to build carbon dioxide during refrigeration.

This third recipe also gives lemon salt as a possible substitute for lemons.

Note that the time and proportions of ingredients vary greatly from one recipe to another. A third recipe (the one from 1975 mentioned above) advises to leave the socata to ferment only 48 hours. Ingredients also come in very different proportions. Here they are, for 5 liters: 500g sugar, 4-5 umbels, 2 lemons, 150 caramelized sugar (dissolved in water), 5g yeast. Good luck making elderflower cordial!




Romanian Recipes on Other Web Sites



Romanian Recipes from 1950
The Retro Housewife Web site has collected some Romanian recipes from 1950. You'll find a recipe for eggplant or potato moussaka, stuffed cabbage rolls or stuffed vine leaf rolls, caraway seed soup, lettuce soup, cheese pie, plum pie, and more. Added: March 28, 2010.

Transylvanian Cooking, Orastie Style
Appetizers (Transylvanian deviled eggs, fried breaded cheese, cheese-spinach strudel), soups (bean soup, sour lamb soup, chicken soup), salads (summer salad, cabbage salad, cucumber salad, potato salad), vegetables (under construction), fish dishes (grilled trout, baked fish with vegetables, flounder roulade), poultry (under construction), meat dishes (stuffed cabbage leaves, grilled meat fingers, shepherd's lamb stew, stuffed vine leaves, eggplant moussaka) side dishes (polenta with feta cheese, noodles with shredded cabbage, sautéed mushrooms), and desserts (under construction). Added: July 23, 2002.

Liana's Kitchen -- Traditional Romanian Recipes from Liana Silea in Alba Iulia
Appetizers, soups, main dishes, and desserts. Includes the well-known Boeuf Salad (very similar to what the Spanish call Russian Salad, or ensalada rusa), potatoes with eggs and cottage cheese, Romanian sour soup or ciorbă, green beans soup, sarmale, strawberry foam, meringues. Link updated: March 28, 2010.

Romanian Coliva Recipe
On the occassion of services in remembrance of the dead, we make a dessert called colivă. Mihaela Lica posted recipe instructions and photos together with ritual steps involved in the preparation of this delicious dessert. Added: March 28, 2010.

A Hungarian Version of Pork Stuffed Cabbage Rolls
I looked for a Romanian recipe (in English) for stuffed cabbage rolls and came across Elise's Hungarian recipe, which sounds like it's bound to produce something very tasty. Note that you'll find stuffed cabbage rolls everywhere in Eastern Europe as well as in many places in central Europe and Western Asia. For a nice Romanian version of stuffed cabbage leaves (sarmale), I suggest Nicolae Klepper's recipe in Taste of Romania. (Hint: He recommends using thyme and dill rather than paprika and marjoram.) The page with the Hungarian cabbage rolls is equally interesting however, for the specific filling as well as all the comments following Elise's recipe. Added: March 28, 2010.

Recipe for Stuffed Cabbage Rolls (sarmale) and Stuffed Bell Peppers (ardei umpluţi)
Many people in Romania use "vegeta" (mix of dried vegetables, spices, and salt) as an all-purpose ingredient, as an "indispensable, universal food seasoning" (as its producer promotes it). Nowadays the product line includes MSG-free vegeta. If you decide to go for vegeta in your sarmale or ardei umpluţi, here's a recipe that solves all the spice-related quandaries with vegeta, paprika, salt, and pepper. Added: March 31, 2010.





ROMANIAN RECIPES AND WINES








Concise yet comprehensive, the Berlitz Romanian Phrase Book & Dictionary introduces you to meal times, types of eating places, ordering, and goes on to translate and describe traditional breakfast dishes, cold and hot starters, soups and stews, fish and meat dishes, meat specialties, game and poultry dishes, potato and polenta specialties, rice and pasta, common sauces, vegetables and salads, herbs and spices, cheese types, fruits and nuts, and, finally, desserts, drinks, and even snacks.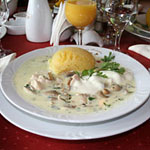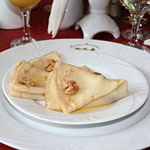 Taste of Romania
. Nicolae Klepper has collected for this book great recipes for the staples of traditional Romanian cuisine as well as a few savory dishes shared by appreciated Romanian chefs. The book is extremely user-friendly, with crystal-clear instructions accompanied by notes on some of the harder-to-find ingredients and serving suggestions. Learn how to make stuffed cabbage rolls, Romanian lamb haggis, fish ciorba, a country style salad, eggplant salad, pickled vegetables, Romanian panettone, as well as trout with almonds and sour cream, veal roll with spinach, or baked sole with mushrooms.

Also included are a few words about the celebration of Christmas and Easter, as well as a number of proverbs, a folk tale, a fable, and two poems -- a glimpse into Romanian culture to whet your appetite. This edition also includes a few Romanian-Jewish recipes.
















Romanian Ciorbă -- Recipe by Natasha Williams
Romanians eat a lot of soup and sour soup or ciorbă. And they're not alone: Natasha's Cafe in Lexington, KY prepares Romanian ciorbă.

Romanian Cabbage Soup with Bacon -- from RecipeSource.com
Another recipe for a version of the traditional sour soup ciorbă, peasant's sour soup or ciorbă taranească. Will be ready in one hour.

Fasole batută (Romanian Bean Dip)
This is a common Romanian dish, one that you will find at Romanian fast food places and in the fresh cooked food section in supermarkets. Added: March 28, 2010.

Romanian Ghiveci
A recipe for a Romanian vegetable stew called ghiveci. I have never had any ghiveci with potatoes in it, but I see they make an appearance in several recipes online (see this one as well). Added: March 28, 2010.

Easter Recipes on ExploringRomania
Recipes for traditional Easter dishes such as drob de miel (lamb haggis), pască (Easter bread), lamb roast, and lamb stew. Added: April 5, 2010.

Romanian Food -- Ellie's blog
Illustrated Romanian recipes on Ellie's homecookinginmontana blog. Among them you'll find recipes for placintă cu brînză (cheese-filled phyllo pie), şniţel de pui (chicken tenders), chifteluţe (meatballs), salată de vinete (eggplant dip), mîncare de mazăre (dilled peas with chicken), supă de găluşte (chicken soup with dumplings), murături (pickled vegetables), ardei copţi (roasted bell pepper salad), and mămăligă (polenta). Added: April 5, 2010.

For useful tidbits about things Romanian, try the excellent Berlitz Romanian Phrase Book & Dictionary. This pocket book offers description and translation of everthing from Romanian dishes to camping and sports equipment. It also includes several dictionary pages, and a reference section with common abbreviations, greetings and wishes and much more. Finally, there are also directions, questions you might want to ask, and answers you might want to understand.
MORE BOOKS
The World Atlas of Wine. By Hugh Johnson. Mitchell Beazley, 2001 (5th Rev. Edition).
New Sotheby's Wine Encyclopedia: A Comprehensive Reference Guide to the Wines of the World (revised and updated). By Tom Stevenson. DK Publishing, 2001 (3rd Edition).
From Vines to Wines: The Complete Guide to Growing Grapes and Making Your Own Wine
By Jeff Cox. Storey Books, 1999 (3rd Edition).
Hugh Johnson's 2002 Pocket Wine Book By Hugh Johnson. Mitchell Beazley, 2001 (25th Rev. Edition).
How to Taste: A Guide to Enjoying Wine By Jancis Robinson, Jan Baldwin (Photographer). Simon & Schuster, 2001.
The Art of Eating By Mary Frances Kennedy Fisher. Hungry Minds, 1990 (Reprint Edition).






Romania's hills make perfect microclimates for vineyards. As a result, expect to find a wealth of wines. Learn to value them by reading The Oxford Companion to Wine.