Back to Princess Ileana on the Romanian History page



Princess Ileana of Romania, I Live Again
A Note of Introduction


In 1950 Princess Ileana (1909-1991), youngest daughter of King Ferdinand and Queen Marie of Romania, arrived in New England -- with a broken heart, a will to start over, and many stories which would remain unknown to us in Romania for the decades that followed. Fortunately, now, thanks to Tom, her memoir of 1951/2 I Live Again is available online.

As readers at the time would have expected, the story is about a royal princess, complete with overviews of genealogy and accounts of family castles and sagas of certain family treasures. It is also a deep foray into the heart and faith of a woman who served her country not only by bearing the duties her royal birth mandated, but also by taking upon herself to serve Romania as a nurse and leader in times of war and persecution.

Her story moves from castles to hospitals, dispensaries and trenches; from her kitchen in New England to the rooms and gardens of her husband's castle of Sonnberg near Vienna; from Bran Castle to the customs houses and other makeshift homes she found for herself and her children in war-torn Romania. Many chapters are filled with war stories: accounts of gangrene, blindness, and death find their way into a princess's story just as they did in many lives in Romania during WWII.

The book is also a fragmented social history of the beginnings of the Communist regime in the first years following the WWII, who breaks with the dry ideological account of Communist textbooks and at times "separate[s] the individual from the evil, instead of presenting the one as the personification of the other" (see the Afterword). Especially interesting are her descriptions of Ana Pauker and Emil Bodnaras, where on the scene of history the stark reality of "the new man" meets powerful and at times surprising human characters, partially "made" by and for the times, and partially escaping them. Brief mentions of Ana Pauker's interactions with the children metamorphoses this "boa constrictor" back into a human being for a moment, while the resounding sound of Bodnaras's laugh leaps off the page to leave us wondering about so many other personal stories which might help us better understand what happened to us post-WWII and before. Princess Ileana's story is one such history, changing perceptions of social history together with appetites for learning more about certain years and certain people.

For her part, Princess Ileana, herself mother of six, steps out of these pages as a princess of the Romanian people, in the midst of whom she came to know herself and for whom she worked in Austria and Romania, through her title and hands, until January 1948. The scene describing her departure in chapter 29, crowning the story in a brisk and deeply affecting way, will imprint on your soul the reality of those years, lost to many of those who grew up in Communist Romania.

Enjoy!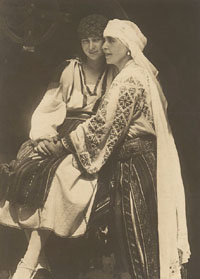 M.S. Regina Maria [Her Majesty Queen Marie] and Principesa Ileana [Her Royal Highness Princess Ileana]
Foto Guggenberger Marcovits, Sibiu
(Posted on
Tom's Place
)





Here are a few excerpts from I Live Again. The book, complete with photographs and Princess Ileana's sketches, is available at http://www.tkinter.smig.net/PrincessIleana/ILiveAgain/index.htm

Chapter 2
http://www.tkinter.smig.net/PrincessIleana/ILiveAgain/Chapter02.htm

I remember thinking of this with great feeling in 1941! Pregnant with my sixth child, I drove the other five children (the oldest not yet ten) eight hundred miles across Austria, Hungary, and Romania during wartime. Then I often remembered wistfully how short and easy such a journey had been in the plane—the smallest baby riding comfortably in our aluminum "albie." Perhaps I should explain that an albie is a large, shallow, oval bowl hollowed out of wood, which the Romanians use not only for washing clothes but often as a cradle. When I wanted something in which a baby could rest in the plane, I went to a metalworker in Bucarest and asked him to make me such a bowl out of aluminum, with straps so that it could be carried or could be hung in a car or plane; and we found it very useful.

Chapter 3
http://www.tkinter.smig.net/PrincessIleana/ILiveAgain/Chapter03.htm

For years I saw in nightmare dreams the funeral "procession" I so often saw as a child in Jassy: the bony horse drawing an ordinary farm cart loaded with dead bodies, piled as high as possible; a rough board put across the wagon bed to make a seat where beside the driver sat a priest in his vestments, and an army trumpeter to sound his call over the mass graves. One day while it passed our house I watched from a window, wondering how such a starved-looking animal could pull the heavy wagon. Suddenly the horse stopped and quite slowly collapsed between the shafts, dead. His fall overturned the wagon, and the naked bodies spilled stiffly out over the street. I remember catching sight of our Romanian cavalry guard rushing out to help as I turned away from the window to run for comfort to the little wooden horse I had brought with me from Bucarest—the favorite toy of my baby brother Mircea, who had died only a month before we were driven from our home.

Chapter 6
http://www.tkinter.smig.net/PrincessIleana/ILiveAgain/Chapter06.htm
Driven by a feeling that I wanted to be of service, as soon as I had stopped nursing Magi I entered a systematic course of Red Cross training to supplement and complete the courses I had previously taken in England and in Romania. I did not join the German Red Cross because to do so involved swearing fidelity to Hitler, and this I could not do. Therefore I never received a certificate for this nursing course, but the training added a great deal to what I had already learned from both theory and practice. Except for this training course, my life became an irregular one of wartime responsibility and anxiety, with the family calendar keyed to Anton's furloughs. When he had leave which was too short to allow him to come home, I made long journeys across country to be with him. I remember especially one time when I made a fifteen-hour train trip to Berlin to meet Anton, who had a twelve-hour leave there. An infection which I had been fighting was aggravated by the long, cold trip, and Anton had hardly gone back to the front before I became so ill that I went to the Romanian Legation, where I was put to bed with a high fever. I was in such pain that when there was a bombing raid during the night I refused to let them try to move me to the shelters in the basement. It was not until morning that I learned how one of our Romanian couriers, in from Bucarest, had refused to allow his princess to remain alone during the raid, and had sat outside my door all during the night. After I had recovered I was informed by the Romanian Minister of our loss of Transylvania to Hungary and of Bessarabia to Russia, then an ally of Germany. It was also his painful duty to inform me of the abdication of my brother, Carol II, and of the distress and confusion in my country—matters of which I will say a little more in a later chapter.

Chapter 11
http://www.tkinter.smig.net/PrincessIleana/ILiveAgain/Chapter11.htm

"The train is in!" Off we went down the line to the very end of the train, my faithful orderly and I carrying as much as we could between us. We were by this time doing good teamwork, so that the moment I emptied the first half of the cans and baskets he left for a refill, and the task went more quickly. There was little light because of the blackout, but enough to show us carriage after carriage of unfortunates, as we moved along the line. Sleepy and exhausted, many of these refugees stayed within the cars and let us serve them through the windows, and so it was that near the end of the train I came to a window where a woman stood in the shadows, holding a little bundle in her arms.

"Milk! Milk for the child!" I called to her.

"What for?" came her bitter answer. "It is no good now! Here! Take him and bury him if you have a heart; my heart is dead!" And out through the window she handed me the frozen little creature, blue and cold in death. I took him, and for a moment I felt my heart stand still—he was so cold and light. But I had to go on with my duty. There were other children in the car who were alive and wanted the milk, so I put the pathetic little bundle between my feet so that it would not be trampled, and served out the last of my supplies. The train moved on. With the empty cans and baskets on one arm, and the dead child on the other, I walked back to the canteen, and never was the way so long, so weary.

Chapter 13
http://www.tkinter.smig.net/PrincessIleana/ILiveAgain/Chapter13.htm

They on their part had more pleasant things to talk about. In the first place, there was Anne. Her photographs were taken out, and Michael's beaming face showed his happiness. He and Sitta were full of plans about how things would be arranged; about how they would transform the Foisor—Michael's residence at Sinaia. Then there was all the news of our English cousins and the other relatives and friends, and it was wonderful to listen to it. It was like a breath of air from another climate. I returned to my own house much happier, although the two contrasting events of the day had worried me. What would the outcome be? I knew in my heart what was inevitable, but I refused to accept it.